Fabulous 17th - 18th century Baroque Jewelled Silver Finger Ring Size 7 3/4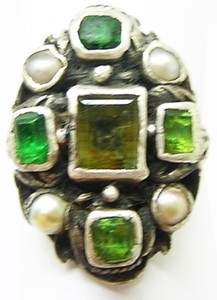 ---
A nice Baroque pearl and emerald paste finger ring, dating to the late 17th century. The ring has a large cruciform shaped bezel, set with split pearls and foiled glass (to resemble emeralds). The back of the bezel is decorated to receive enamel. It is a 'showy' ring, designed to get one noticed!  
OBJECT: Finger Ring
CULTURE: Baroque
DATE: c. 17th - 18th A.D.
MATERIAL: Silver, glass, and pearls
RING SIZE:   7 3/4  (US)   P 1/2 (UK)
SIZE: 24mm x 21mm x 3mm (bezel 28mm x 19mm)
WEIGHT: 8.5 grams
PROVENANCE: Ex. European Private Collection
This item is unconditionally guaranteed to be ancient and to date from the period described. A certificate of authenticity will be supplied on request.